Who Are The Best Catering Services In Kolkata?
Kolkata, "City of Joy," is not only known for its cultural hub but also for its rich culinary heritage, boasts an abundance of catering services, making it challenging to choose one "best" option. However, many caterers have consistently earned praise and reputation for their exceptional services.
After searching a lot and going through all the parameters, we found that Aheli Caterer is one of the best as far as hygienic food and safety protocols are concerned, they follow all the rules and points. According to many customers and their reviews, Aheli Caterers is the best caterer in Kolkata.
Aheli Caterers is also known for being one of the best Bengali caterers, wedding caterers and Marwari caterers in Kolkata as they know Bengali, Marwari, Chinese and South Indian tastes.
At the heart of Kolkata's vibrant culinary scene is Aheli Caterers, which is fast carving its place as one of the city's leading catering companies. Aheli's commitment to unmatched quality and impeccable standards is reflected in every dish they serve. The diverse range of dishes – from authentic Bengali and spicy Mughlai to exotic Continental and Thai – speaks to his versatility and dexterity. Mystery? A blend of the finest ingredients, the magical touch of an expert chef and a desire to provide value for money.
But before going to any conclusions about choosing the best catering services in Kolkata, you can check for yourself one more thing that is to be considered while choosing a catering service for your parties and events. In our blog parts, we also provide other tips and recommendation which is important while hiring a caterer in Kolkata.
Tips for Hiring One of The Best Caterers in Kolkata
When planning a new event, choosing the right catering services is one of the most important decisions, regardless of the size of the event. An important part of preparing an event is choosing the best caterer. In the vibrant city of Kolkata, renowned for its rich culinary heritage, finding the best caterer can be a daunting task. Here are the factors that suggestions will help you select one of Kolkata's top caterers:
Begin your search for a caterer well in advance. The top caterers in Kolkata often have busy schedules, so booking early ensures you have more options to choose from.
Seek recommendations from friends, family, or colleagues who have hosted successful events in Kolkata. Your search for reputable caterers can be aided by their first-hand knowledge.
Check Reviews and References:
Browse online reviews and testimonials to gauge the caterer's reputation. Additionally, ask the caterer for references and contact past clients to inquire about their experiences.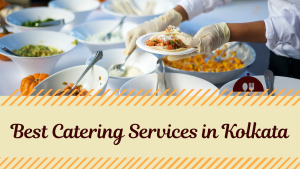 To evaluate the food's flavour and quality, a tasting is required. Top caterers will gladly arrange a menu tasting, helping you make an informed decision.
Verify Licenses and Certifications:
Ensure the caterer holds the necessary licenses and certifications, including food handling permits. They will abide by health and safety standards as a result.
Discuss Dietary Requirements:
If you have guests with dietary restrictions or specific preferences, discuss these with the caterer. A good caterer should be able to accommodate various dietary needs.
Clearly outline your budget to the caterer. A reputable caterer will work with you to create a menu that suits your financial constraints while still delivering quality food and service.
Inquire about the catering staff, including their experience and attire. A knowledgeable and courteous staff can improve the overall eating experience.
A caterer should be flexible and willing to adjust the menu or services to meet your specific needs. So, discuss any changes or special requests openly.
Carefully review the catering contract, including cancellation policies, payment schedules, and any hidden fees. Make sure everything is transparent and agreed upon in writing.
If possible, visit the caterer's kitchen to ensure cleanliness and organization, which are crucial for food safety.
Get Everything in Writing:
Once you've made a decision, ensure all the details, including the menu, timeline, and costs, are documented in a formal contract.
The success of any event in Kolkata depends on your choice of caterer. You can confidently choose a top caterer that will make your special occasion even more memorable and give your guests a wonderful dining experience by taking into account these suggestions and conducting extensive research.