Planning an event in Kolkata and looking for the best caterer to make it a memorable experience? Look no further! Whether it's a wedding, corporate function, or any other special occasion, choosing the right caterer is crucial for the success of your event. With so many catering services in Kolkata claiming to be the best, how do you find the one that truly lives up to its promises? In this blog post, we will guide you on how to choose the best caterer in Kolkata and ensure that your guests are treated to an unforgettable culinary experience.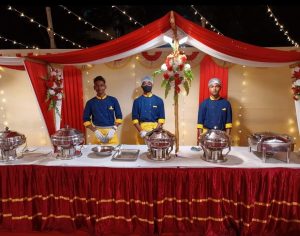 How To Choose The Best Caterer In Kolkata?
Start with Research: Begin your quest for the best caterer in Kolkata by conducting thorough research. Look for recommendations from friends, family, and colleagues who have recently organized successful events. Don't forget to explore online platforms and review websites that provide insights into various catering services in the city.
Consider Your Budget: Before finalizing a caterer, it's essential to determine your budget. Decide how much you are willing to spend on catering services without compromising on quality or guest satisfaction. A good caterer should be able to offer options within your price range.
Check Their Expertise: Different caterers specialize in different types of events and cuisines. Make sure to choose one whose expertise aligns with the requirements of your event. If you're hosting a wedding, opt for a caterer experienced in handling large-scale weddings with diverse menus.
Menu Tasting Session: Arrange a menu-tasting session before making any commitments with the caterer. This will allow you to assess their culinary skills firsthand and ensure that their flavors match your expectations.
Customer Reviews Matter: Take some time to read customer reviews about different catering companies in Kolkata. Pay attention not only to overall ratings but also to specific feedback regarding food quality, presentation, service efficiency, and professionalism.
Communication is Key: Effective communication between you and the caterer is crucial throughout the planning process. Set up meetings or phone calls where you can discuss all details such as dietary restrictions, special requests, and logistical arrangements.
Professionalism & Flexibility: Look for a caterer who demonstrates professionalism at every step of the way.
They should be accommodating towards any changes or last-minute adjustments that may arise during event planning.A flexible approach ensures smoother coordination between them, you, and other vendors involved in your event.
By following these guidelines, you'll be well-equipped to choose an outstanding caterer for your event in Kolkata. Remember to take your time,
SO YOU CAN CHOOSE AHELI CATERER, WHO IS THE BEST CATERING SERVICE PROVIDER IN KOLKATA FROM ANOTHER CATERING SERVICE PROVIDER.